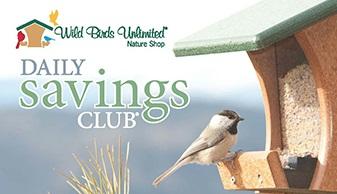 Savings, Rewards, and Special Offers!
By joining Wild Birds Unlimited's Daily Savings Club, you'll save 15% off the price of our bird seed blends, bags of single seeds (sunflower, safflower, millet), peanuts, seed cylinders, suet, Bark Butter and Bark Butter Bits, and mealworms — every day! And during special seed sales to the public, Daily Savings Club members receive an additional 5% off sale prices.
Plus, for every $200 you spend on anything in our store, you'll receive a Birdbuck that spends like $10 cash in the store.
And, club members receive special coupons and offers for even more savings. Come join the club!