Hilton Head Island, South Carolina
45 Pembroke Drive, Suite 130
Hilton Head Island, SC 29926
Next to Island Wine & Spirits

(843) 802-2010
Serving You Today Until 4:00 pm
| | |
| --- | --- |
| Monday | 10:00 am - 4:00 pm |
| Tuesday | 10:00 am - 4:00 pm |
| Wednesday | 10:00 am - 4:00 pm |
| Thursday | 10:00 am - 4:00 pm |
| Friday | 10:00 am - 4:00 pm |
| Saturday | 10:00 am - 4:00 pm |
| Sunday | Closed |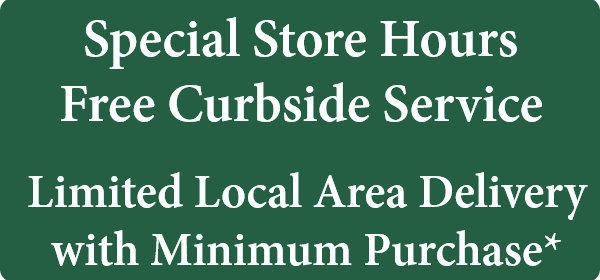 Temporary Store Hours
Monday-Saturday: 10:00 a.m. to 4:00 p.m.
Sunday: Closed
We would like to send a heartfelt thank you to our wonderful customers who have been so supportive and loyal during this difficult time. We could not do what we do without you, and we appreciate you all from the bottom of our hearts. We are hand-washing, surface-cleaning, and social distancing our hearts out over here, trying to continue our mission of making Wild Birds Unlimited of Hilton Head a safe, happy, healthy place to shop.
Right now, we are operating on a skeleton crew of employees in an effort to make sure our team stays safe, our local birds still get fed, and our customers can continue the joy of bird feeding. If you are purchasing bird food only and/or know exactly which feeders, supplies, gift items, etc. you want, please take advantage of our Curbside Pick-Up Service. We can look up your previous purchases on our computer to help you make your decisions.
Curbside Pick-Up Service: Easy as 1-2-3
Place your order by calling us at (843) 802-2010.
Come to the store and let us know when you arrive by calling (843) 802-2010. Then pop open your trunk and wait in your car.
We'll bring your order to your car and place it in the trunk. No personal contact required! (But we can still smile and wave.)

*Limited Local Area Delivery Service
We are also happy to deliver your order directly to your front door within a specific delivery radius. Delivery charges will apply. $50.00 minimum purchase required. Call us at (843) 802-2010.
As much as we love visiting with all of you and learning about your home bird-watching adventures, we may have to have those conversations from a safe distance outside until the COVID-19 situation lessens. We are also just a phone call away for any questions you may have.

Stay safe and healthy over the coming days and be extra kind to one another. Take solace in watching your backyard birds and know that we'll get through this together.
Sincerely,
Julia and Sean Dennis
---